For music released under Aleksander Vinter, see Aleksander Vinter (Alias).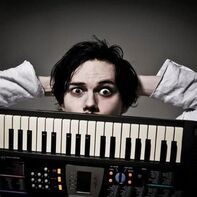 Aleksander Vinter, better know under the alias Savant, is a Norwegian musician known for his ability to produce songs at an incredibly fast rate. Aleksander is a eccentric, self proclaimed "music scientist" who shuns modern EDM and genres and instead chooses to genre blend and experiment with any sound you could think of.
Early life
Edit
Aleks was born in Holmestrand, Norway sometime in April in the early 1990s. He made drum'n'bass and video-game inspired music on the DAW eJay and later FastTracker.
He later joined the black metal band No Funeral, where he played guitar.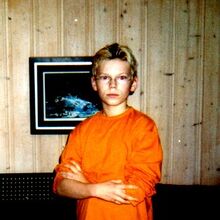 In his mid teens, Aleks was given a psychiatric evaluation and diagnosed with Aspergers syndrome, bordering on savantism (hence the name Savant).
Musical style
Edit
Through his career, Aleks has touched upon several styles of music. Most notably Metal, Hip Hop, Orchestral and Electronic music. His Electronic songs are usually very complex, often containing heavy bass drops, chiptune elements and sampling. Aleks has described his music like this
"8-bit videogame soundtracks, trap, disco, house, electro, classical, '90s big-beat electronica – even '70s glam rock and '80s new wave finds its way into his sonic odysseys. "I like how a group like Queen is very theatrical and harmonized," Vinter says. "That epic feeling, plus the style of David Bowie, and the spunk of Prince – that's what I'm going for, but via dance music."
Aleks has also said that he prefers to not put his songs into any genre, as they all differs vastly.
Vinter In Hollywood and Vegas Era
Edit
Sometime around 2009, Aleks began releasing music under the alias Vinter In Hollywood. This was his first major success into popular music, and his debut album, Outbreak - was nominated for a Norwegian grammy. Savants official website calls this the "catalyst" for Aleks to begin producing at a professional level.
The Vinter In Hollywood persona is heavily inspired by artists like Daft Punk and Justice. Most of the VIH songs include very 80s sounding synth lines and happy airy melodies.
Some of the notable songs from the Vinter In Hollywood era include Ride Like The Wind, Outbreak, and Together
in 2011, Aleks signed a contract with sectionZ records under another alias "Vinter in Vegas" Vinter In Vegas could not be more different from VIH, with VIV being experimental ambient beats that mess with the mind. Not a whole lot came out of this era, aside from the 2011 album Mamamachine, which can be viewed in its entirety for free on Aleks' personal youtube channel.
For more, see the Aliases section.
Main article: Aliases
Due to his fast rate of production, Aleks has gone under many aliases.
These include, Savant, Vinter in Hollywood, Vinter in Vegas, Blanco, The Christopher Walkens, and Datakrash, among others.
However, most of these aliases have only released 1-2 albums before going into hibernation.
The only exceptions being Aleksander Vinter, with 6 albums, and Vinter in Hollywood, with 5 (or 8 if you count all four Survival of the Fattest discs as separate albums).
Community content is available under
CC-BY-SA
unless otherwise noted.